Traditional Cabin
Stay at Sycamore Springs Park in our furnished cabin.
Fully Furnished Cabin
The House of Annie & Bud, a fully furnished cabin, is now available at Sycamore Springs Park.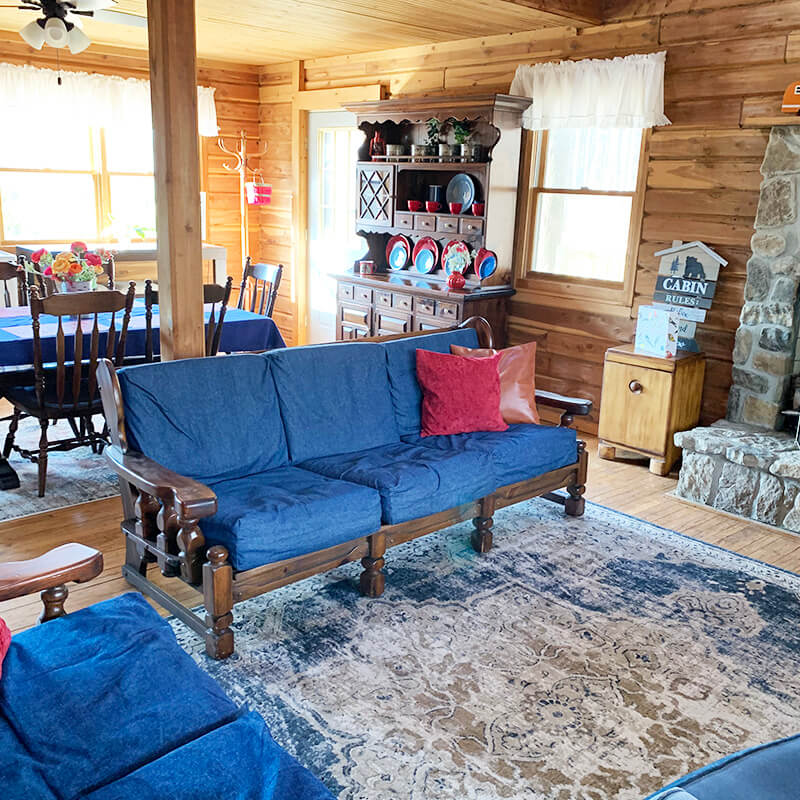 Rental Times
The House of Annie & Bud is now available.  Minimum stay is two nights and Friday and Saturday nights must be rented together.  
Rates
Sunday through Thursday nights are $175 per night  with 7% state sales tax and 5% lodging tax collected.  Friday and Saturday must be rented together and are $200 per night or $400 total plus lodging and sales tax.  A $50 cleaning fee applied per stay.
Beds & Amenities
This cabin comes fully furnished as shown in the pictures below and includes sheets and towels. There is 1 King bed, 1 Queen bed, a Daybed/Trundle, and 2 Twin beds.
Frequently Asked Questions
When can I book?
The "House of Annie & Bud" cabin is available to rent for 2-night minimum stays. Friday and Saturday nights must be rented together. One week max can be booked at a time. 
Do I need to bring my own sheets?
No, sheets and towels are furnished for the "House of Annie & Bud" cabin. No need to pack along extra bedding, we've got you covered.
Can I bring my pet?
No, we do not allow pets to stay in our cabin.  
When is checkout time?
Check-out time for the cabin is 11 am EDT. Check-in time is after 4 pm.
Is there a camp store or ice available?
We sell ice and apparel. Several stores (Dollar General, Hardware and Jay C for example) are less than three miles away. Ice is available during office hours at the park office 8:30-5:30 and from 7:30-7:45 pm.
Can I bring my golf cart?
Golf carts are allowed for licensed drivers age 18 and older. No 4-wheelers, ORV's, or mini bikes/scooters are allowed in the park. 10 MPH is enforced for campers, day users, and all wedding and camping guests.
Do you give refunds?
All cancellations must be made by 11:59 pm in the property's time zone to fall within the cancellation policy
100% refund if you cancel at least 30 days before check-in
50% refund(minus service fee) if you cancel at least 14 days before check-in
No refund if you cancel less than 14 days before check-in
Are there things not allowed?
To provide a family-friendly, safe environment, there are some things not permitted. Alcohol, drugs, loud vehicles, swimming pools of any size, and guns of any kind (including BB guns) are not permitted.